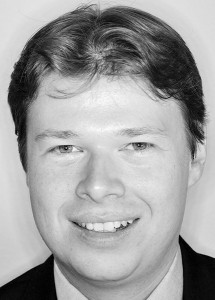 Alexander LaFollett (b. 1985) is a composer, music theorist, and educator, residing in the western part of the Portland, Oregon metropolitan area.
LaFollett's compositions are in a strange-yet-accessible style, based on an expansive, modally-based harmonic vocabulary. His primarily influences by Milhaud, Stravinsky, and Bartok, as well as Eastern European music, progressive rock, and early video game soundtracks. Most of LaFollett's work is in instrumental genres, and includes an ongoing series of orchestral pieces based on the periodic table of elements, as well as thirteen string quartets. His music has been performed by fEARnoMUSIC, Third Angle New Music, So Percussion with the Pacific Rim Gamelan, and the Portland Youth Philharmonic Young String Ensemble, among others. Recently completed compositional projects include the Piano Trio No. 1, which won fEARnoMUSIC's "Locally Sourced Sounds" score call, and a violin sonata, written for Dr. Wyatt True of the Delgani Quartet.
The area of expanded modality is also a theoretical interest for LaFollett. He has presented on the subject at conferences, including the 2015 West Coast Conference of Music Theory and Analysis as well as the 2005 SCI Region VIII conference, and is in the process of writing a book exploring the modal theory and its compositional applications.
LaFollett earned his Ph.D. in music composition and theory from the University of Oregon in 2013. He also possesses a Master of Music degree in composition from Central Washington University (2006). He presently teaches music theory, aural skills, and composition at Portland Community College, in addition to offering private composition instruction.