After a period of relative quiet here, due to the pandemic, things are starting to pick up again in terms of performances (still virtual), recordings, and other activity here.
First things first, my most recently-completed piece, Cyan Egg Music, Op. 59 for flute, alto sax, and horn, will be presented by the most excellent and mostly-Seattle-based wind trio Onomatopoeia (Cassie Lear, flute; Soren Hamm, alto sax; Rebecca Olason, horn) as part of the virtually-based 2021 NASA Region 1 Conference.  (For those wondering, the NASA in this case is not the National Aeronautical and Space Administration, but instead, the North American Saxophone Alliance. )
Onomatopoeia will be appearing on the streaming session on Sunday, April 11th, starting at 11:45am PDT (UTC -7:00), which will also feature a number of other great performers (including my good friend and fellow UO SOMD alum Sean Fredenberg), and pieces by Dwayne Corbin (another Oregon composer and fellow CWU alum, who directs the excellent Tilikum Chamber Orchestra), Kakia Gkoudina, Elise Winkler, Shane Valle, and Gregory Youtz.  The stream will be taking place via Zoom, and while the link has not been posted yet, I will update here (and the "Upcoming Events" sidebar) once it becomes available.
A week after that, on Sunday, April 18th at 5:00pm PDT (UTC -7:00), my Piano Trio No. 1 in G Dardanian, Op. 54, will be performed by Hae-Jin Kim, violin, Heather Blackburn, cello, and Sequoia, piano, as part of the NACUSA 2021 Virtual New Music Festival, which is being hosted by the Pacific Northwest NACUSA chapter, Cascadia Composers.  It will be streamed via the Cascadia Composers YouTube channel–a more direct link will be provided once available.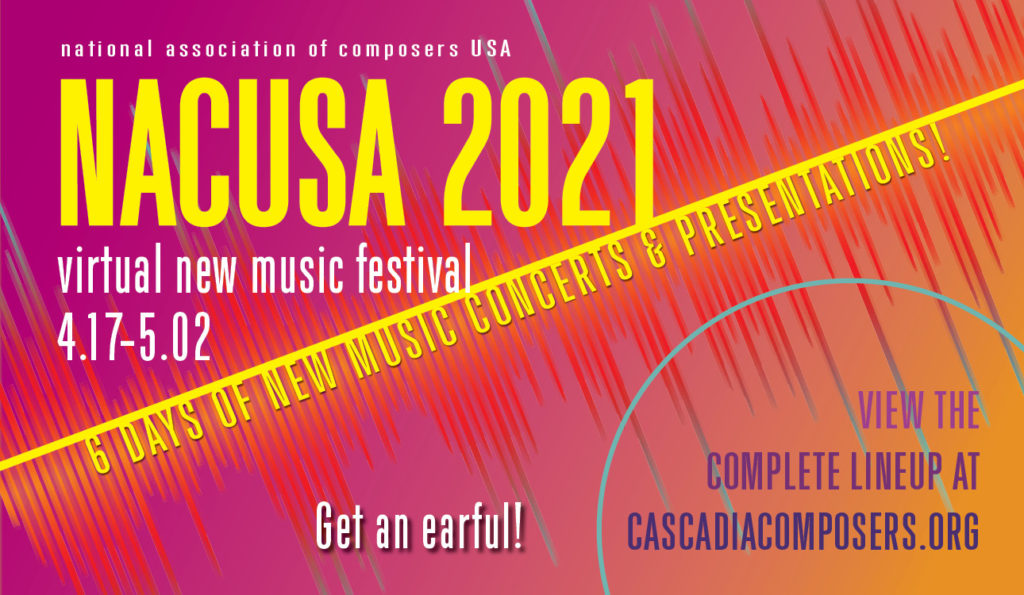 Other composers featured on the April 18th program include William Toutant, Lisa Neher, Adam Eason (who gave a talk on his personal experiences utilizing my modal catalog back in January), Andrew Lewinter, John G. Bilotta, Michael Johanson, Liz Nedela, Gary Noland, and Lesley Sommer.
The festival as a whole will feature Saturday and Sunday evening streamed events over three weeks–more information can be found here.
Finally, my efforts with DIY recordings of my works for strings have continued, and I have a massively multi-tracked (44 times on this one!) realization of an older string orchestra work of mine, the Threnody for Strings, Op. 16.  I wrote this piece way back as a 19-year-old master's student in 2004, and while the piece is old enough to get a driver's license, it's one I've wanted to record for awhile now, and seemed to be a strangely fitting and cathartic choice in the wake of recent events.  It's a surprisingly simple but very intense–and very thick–piece. (Imagine Arvo Pärt's Fratres and Stravinsky's The Rite of Spring having a child together, and you should have some idea of what to expect!)  You can take a listen below:
Threnody for Strings, Op. 16 (2004)
I'll also note, following the NASA virtual event, I'll be headed to my long-awaited appointment for my first dose of the Pfizer COVID-19 vaccine.  Here's to hoping that we'll get to the point at which it is once again safe to have in-person live concerts in the near future.
-Alex