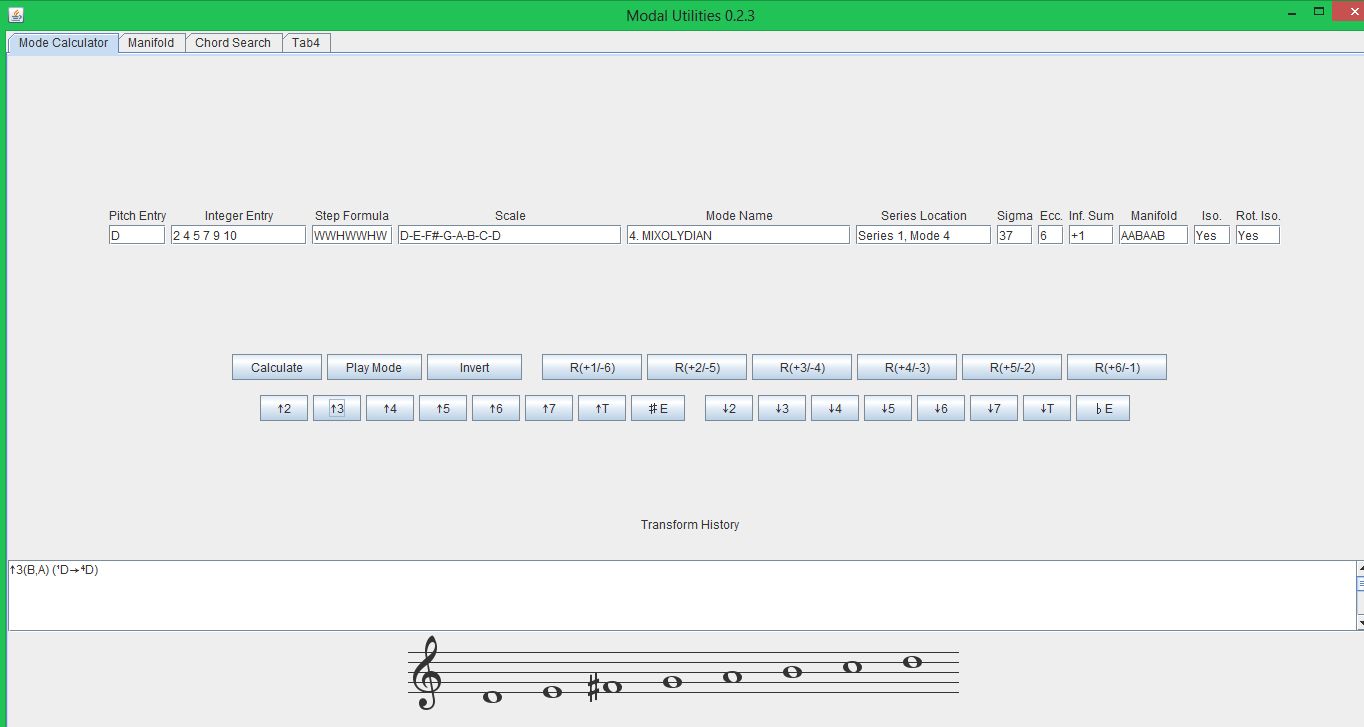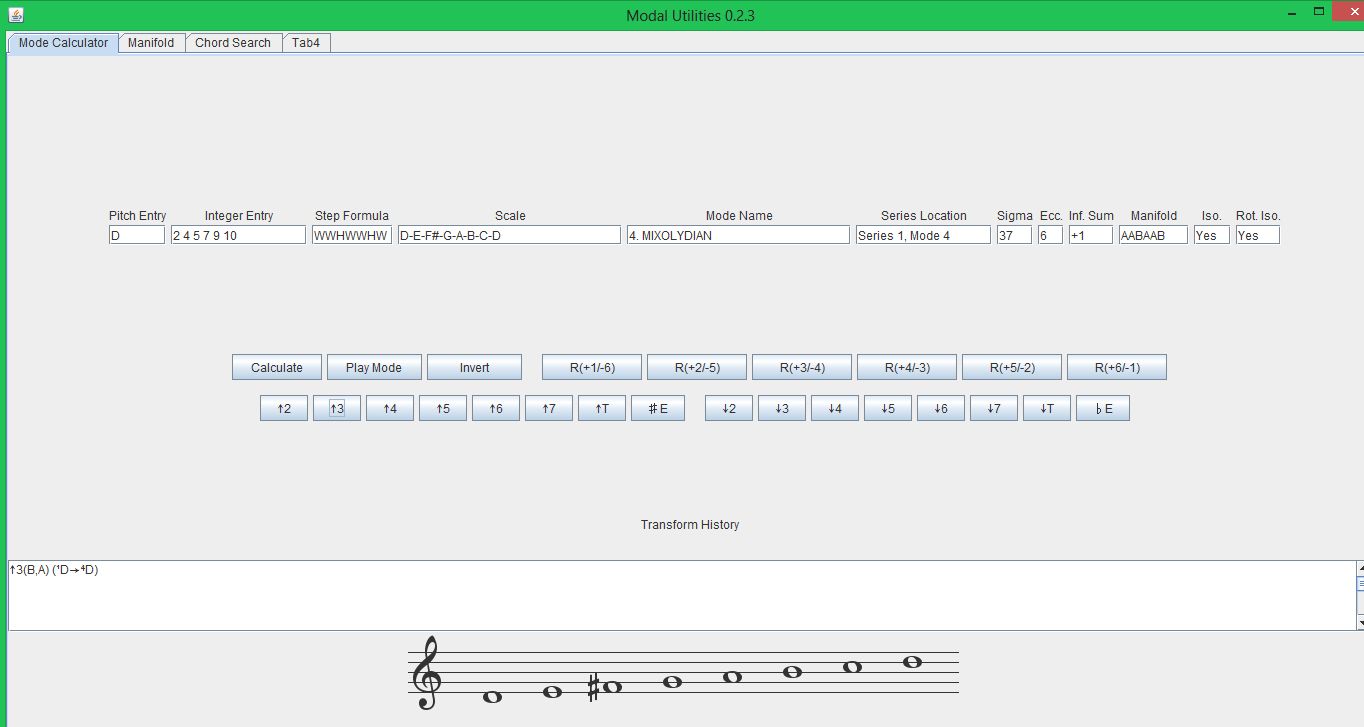 Now that the academic year is over, I've had a chance to work a bit further with Modal Utilities, which is presently carrying the internal version number of 0.2.3. After an arduous battle with the UI, I believe I've gotten the main Mode Calculator module close to where I want it. That includes the implementation of the transformation buttons and a scrolling transformation history box, building in some of the theoretical apparatus I detailed in my conference paper from March (which I've also been working to turn into a publication). As you can see in the above image, the Transformation History details the currently shown mode of D Mixolydian (4D, to use my superscript notation) was reached by virtue of the ↑3 transform on D Dorian (1D).
I've moved the Series Info boxes off this module, as they didn't fit very nicely with some of the new additions, so they will likely end up being spun off to a new module.
The second tab also happens to now show a functioning and interactive Heptatonic Manifold (shown below with Mixolydian mapped out on it). It's still in a limited state right now–I've done a little work with allowing info from the Mode Calculator to transfer over to the Manifold module, but it's not particularly reliable yet.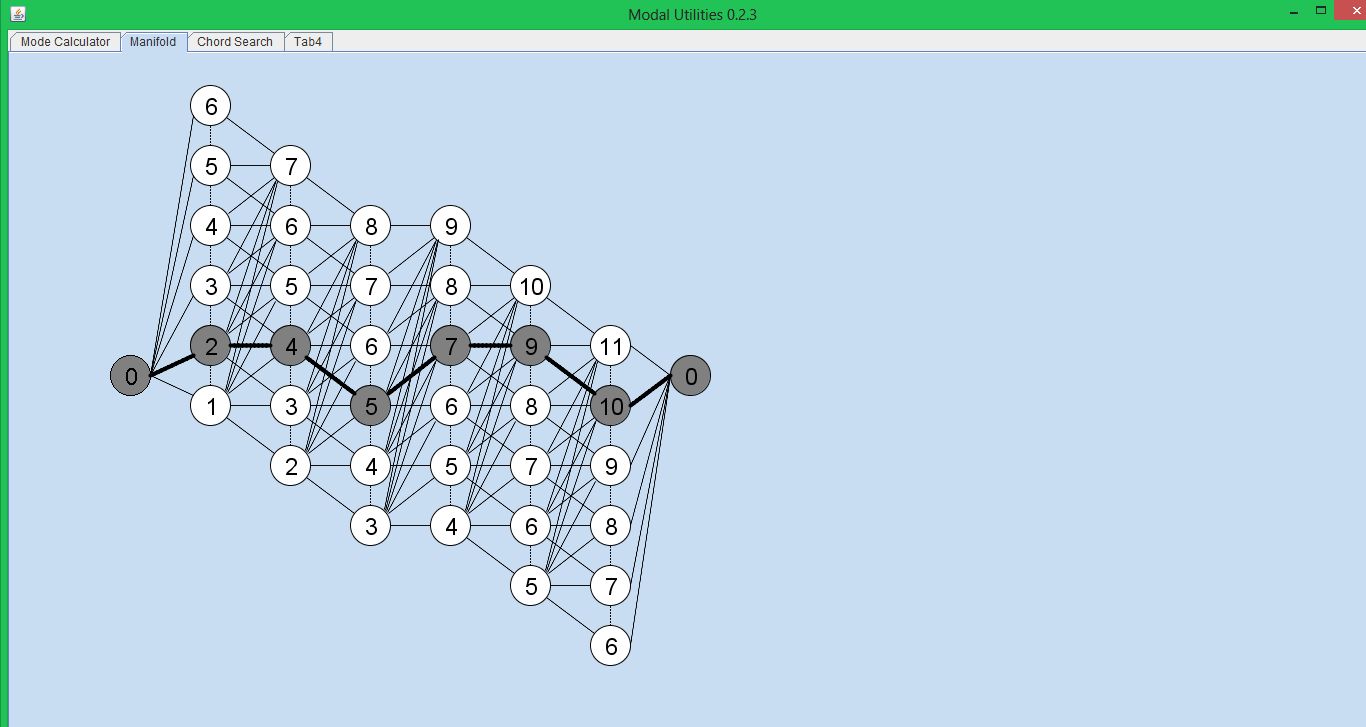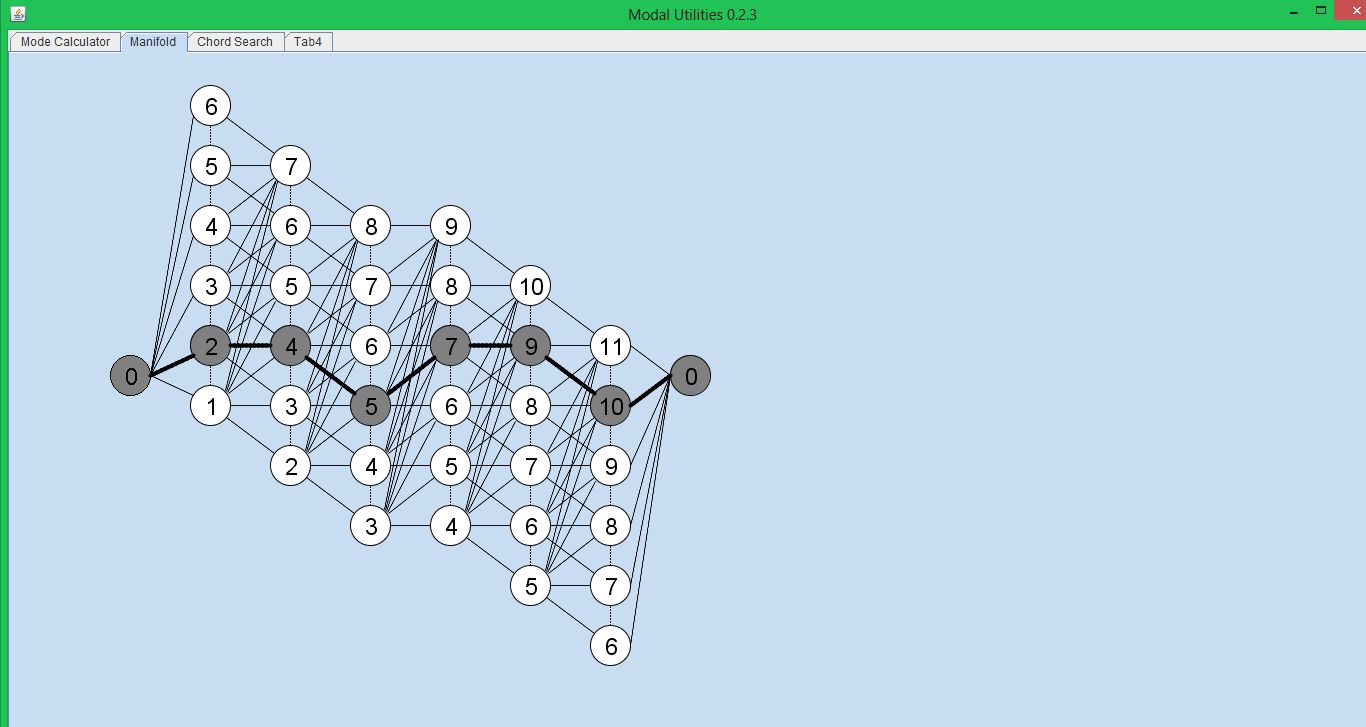 There's also a third tab that now has a label on it–the "Chord SearcH' module, which will eventually allow for examination of harmonic possibilities within the various modes, working with my Arabic numeral labeling system (which saw its debut in my MM thesis analytic paper in 2006). I've coded out a lot of the logic that will be necessary for it to work, and have had success testing it in the console, so it's mostly going to be a matter of working up a good UI for handling that information. Likely, once the manifold/calculator module interactions are solid, I'll roll the version number up to 0.3.0, and it'll be close to the point at which beta testing may be viable.
As far as the compositional side of things, I have a few projects going, and some upcoming events. October 25th will bring the premiere of my Violin Sonata No. 1, Op. 52 down at Oregon State University in Corvallis, with Dr. Wyatt True and Dr. David Servias. My friends and former UO colleagues Jason Gerraughty and Ben Krause will also have works on that program. I'm also working with another group of composers in Portland on a project that will result in a performance in the near future, and will have more to announce on that at a future date.
Thanks for reading, and stay tuned for more details on Modal Utilities updates and upcoming performances. I've also started sneaking some score samples onto the Music page, if you're curious to get a sneak peek at what some of these pieces look like on the page.
-Alexander