After a successful premiere this Sunday in Corvallis at Oregon State University, violinist Wyatt True and pianist David Servias will be taking my Violin Sonata No. 1 and the Oregon Multimedia Project pieces of my fellow UO alums Ben Krause and J.M. Gerraughty to Beall Hall at the University of Oregon in less than 24 hours.
The performance will start at 7:30pm PDT (UTC-7:00) Tuesday, and for those of you who can't make it to Eugene, the UO School of Music and Dance will be live-streaming the concert. The link to the live-stream can be found here on the official event page. (Direct link here.) The program, which includes some notes on the pieces from the violinist, can be found here–my sonata is first up.
Additionally, KLCC, the NPR affiliate in Eugene (89.7 FM) will be airing an interview with Wyatt True at 12:50pm PDT about the project. For those of you outside the KLCC listening area, there is also a streaming option for you there as well.
Also, a little preview of the score . . . this is out of the third movement.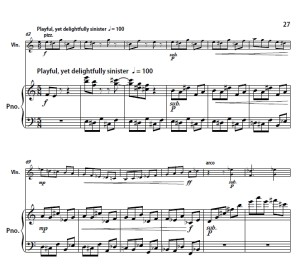 -Alexander